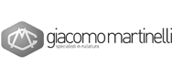 Brescia
Hardware
www.giacomomartinelli.it
Giacomo Martinelli Srl has been a smart factory since the early 2000s with eNX® Full: production data analysis for an innovative company.
Founded in 1964 by Giacomo Martinelli, the company is now managed by Alberto Martinelli. It specialises in rolling for various sectors, such as the wind power, agriculture, automotive, rail, medical and aerospace industries. Rolling, a special cold deformation of the material, is an operation that requires extreme precision and a series of procedures to ensure a top-quality finished product.
With more than 700 customers in Italy and around the world, Giacomo Martinelli Srl has boasted a 4000 square metre site in Passirano (BS) since 2018. The process is certified for the sectors served, having achieved ISO 9001:2015 IQNET, ISO 9001:2015 SQS and IATF 16949:2016 certification. The company's strength is to respond to customer needs with timeliness, creativity and knowledge.
The hardware sector is covered by all the configurable standard functionalities of the eNX® Suite.