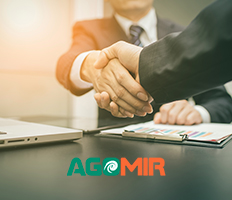 Create a network of reliable and professional partners. Here is the aim of GP Progetti. With the resale agreement signed by AGOMIR S.p.A., this intent evolves and shapes up. Thanks to its presence on the Lombardia territory and the high competence of its staff, Agomir becomes a valid collaborator that extends the network of GP Progetti partners.
Agomir, a company from Lecco that has been providing IT solutions for 40 years to improve management processes and company organization, is now also the reseller of GP Progetti's advanced industrial production management software. Agomir is dedicated to the sale and installation of GP Progetti's eNX® Suite, the innovative solution for monitoring all processes and improving production efficiency in terms of optimization of costs and production times.
Agomir: certified reseller of GP Progetti management software
GP Projects eNX® Suite resale, customer assistance and training: companies in Lombardy that want GP Progetti's management solutions to optimize production according to Industry 4.0, will now also be able to count on Agomir's specialized technicians. Constant training, certified staff and professionalism are the elements on which GP Progetti and Agomir have established their collaboration.
Are you looking for an IT partner in Lombardy to choose the right industrial production management software for you? From today on you can find GP Progetti solutions also in Agomir. Contact us for more information on our sales network.
Manufacturing Execution System (MES) means a computerized system that manages and controls the productive function in the company. MES 4.0 software creates links between the ERP and the machines and it governs and automates the entire production process. The main feature of MES 4.0 is in fact the ability to align production with business management, bridging the gap between planning and what is produced.
The MES in cloud proposed by GP Progetti offers the advantage of not requiring a dedicated infrastructure in the individual factories of a company that has, for example, more locations that need to be coordinated with each other.
What does a MES 4.0 software do?
The operations and functions performed by a MES 4.0 in cloud software are:
Data collection
Management, monitoring and control of production
Traceability of product and machine status
Detection and analysis of machine parameters
A Manufacturing Execution System aligns and coordinates business management with production, making each phase of the process more efficient considering the available resources, i.e. operators and machinery. The goal of this management is to optimize production for maximum efficiency. Furthermore, another indispensable requirement of MES 4.0 software is the ability to integrate with information systems already in use in the company, such as the ERP (Enterprise Resource Planning).
MES 4.0 software improves production management
A tool that collects useful data for defining a production strategy is needed to coordinate and optimize production.
How does production management improve with MES 4.0 software?
Constant production control to reduce waste
Stock management in real time
Optimization of the exploitation of production resources
Supervising the production process means, for the company, always having costs and resources under control by relying on a single tool that puts machines, people and systems in communication.
Do you want to improve production management with MES 4.0 software? Discover all the advantages of this tool by contacting us for a meeting.