We often hear to talk about it, but the concept of Industry 4.0 seems still something abstract and distant to many companies. This is what emerged from a survey conducted in Italy by BCG and Ipsos. According to it 22% of the interviewed companies (total number 170) did not plan any I4.0-related activities shortly.
GP Progetti has been working on Industry 4.0 for years. We now want to share the advantages for companies that invest in the smart factory. An intent that is connected to the technological consultancy that GP Progetti offers to customers, supporting and guiding them during the process of evolution in a smart factory perspective.
The questions of entrepreneurs on Industry 4.0 and industrial production
To explain the potential of the Industry 4.0 GP Progetti reports the more frequent questions and doubts of the entrepreneurs. Here are some examples:
"Which departments of my company can I involve in the Industry 4.0?"
All of them. Industry 4.0 embraces every stage of production, from less complex activities to more complex ones that also involve customers or suppliers. The goal is the creation of an efficient chain that optimizes production in all its phases. Defining the most efficient methods that involve all production steps is the goal of a reliable and competent partner such as GP Progetti.
"My staff is not prepared to face this change".
The transition to the intelligent factory certainly requires specific and more fluid skills. GP Progetti offers an activity of support and training to the internal staff for the use of the management software for production monitoring.
"How can I manage the practice to access tax opportunities related to Industry 4.0?"
GP Progetti supports its customers in this phase too.
After mentioning the most frequent doubts that GP Progetti, production management software company, often meets, it is useful to list the benefits linked to Industry 4.0. Companies wishing to become smart will be able to enjoy:
Flexibility and speed thanks to innovative technologies
Increased productivity thanks to the reduction of machine downtime, errors and production times
Better quality and waste reduction thanks to sensors for production monitoring
If you think that your company is not made for Industry 4.0, call us to clear up any doubts. It will be a pleasure to show you all the potentials and advantages for those who choose to evolve into smart factories with GP Progetti.
The cooperation between Giacomo Martinelli and GP Progetti began more than 20 years ago. Alongside the constant growth of Martinelli, GP Progetti has operated, installing the eNX suite with specific configurations to meet the customer's needs, up to the last major intervention that definitely combines the name of Giacomo Martinelli with the concepts of smart factory and industry 4.0.
GP Progetti programmed eNX on the basis of the inputs of the customer. It is not a simple internal planning of all processes (from acceptance to shipment), but a tool that dynamically adapts to external and internal needs. Software automation does not replicate an established process, but allows to choose who and when to query based on the specific needs of managers and departments.
Methods, timing, questions and answers are adjustable and calibrated on the company's thirty-year experience to build a specific process that guarantees the quality of the individual product and the efficiency of its process. Thanks to GP Progetti's eNX full the human-technology integration is effective: thirty years of experience and human flexibility supported by memory and IT means to bring the departments of Giacomo Martinelli to their maximum performance.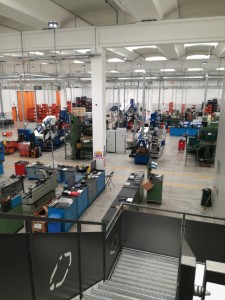 How did Giacomo Martinelli grow to become a smart factory according to industry 4.0?
Also thanks to the interventions of GP Progetti, the achievements of Giacomo Martinelli are important and tangible:
Revenue and employee growth
The company's turnover has recorded a constant increase over the years, which continues also in the first quarter of 2019 compared to that of 2018. Last year Martinelli's team grew by 30%, reaching the number of 32 employees.
Increase in the number of machines and expansion of production
Thanks to the smart factory tools, Giacomo Martinelli produced, in 2018, 800 different items also thanks to the constant expansion of the machinery. Within the first half of 2019 the production units will increase from 40 to 42.
Improvement of business efficiency
Also thanks to the real-time production monitoring system installed by GP Progetti, Giacomo Martinelli greatly optimizes efficiency. With the 4.0 system, in 2018 it was possible to monitor in detail more than 3,400 production lots. Of these, less than 0.5% were partially negative.
Subcontracting, lead time of a few hours
In 2018 Giacomo Martinelli moved to Passirano (BS) in a new production headquarter covering 4,000 square meters and more than 8,000 uncovered. The strategic proximity to the Ospitaletto motorway exit (A4), combined with the management system installed by GP Progetti, guarantees customers a lead time of hours, not days.
The intervention of GP Progetti, from a smart factory and industry 4.0 perspective, allowed the introduction of timely notifications, interconnecting all company departments. Not only technology for communication between machines, but efficient dialogues between all the corporate bodies involved. The smart factory that not only allows the dialogue between the machines, but also simplifies and makes more effective communication between the people who work in the company to optimize production and maintain high and constant quality.
Do you want to turn your company into a smart factory to improve production in all its phases? Contact GP Progetti for a meeting.
GP Progetti introduces the important project that led the company Giacomo Martinelli towards the fundamental goal of Industry 4.0.
The GP Progetti consultants' team has worked for 20 years alongside Alberto Martinelli, owner of Giacomo Martinelli, to transform the company into a cutting-edge smart factory.
The pursuit of continuous improvement in business processes is the goal of the project.
Giacomo Martinelli, a company from Brescia specialized in subcontracting that deals with thread rolling since 1964, produces 100 million pieces a year today. In 2018 it moved into the new and innovative 4,000 square meter headquarters in Passirano (BS), expanding its production through an improved technological development. The owner, Alberto Martinelli, wanted first and foremost to allow his employees to work well because the quality of life is connected also to work, according to the company's CEO. By improving the work, production is also optimized.
The goals of Giacomo Martinelli to become a smart factory:
Remove production stoppages, which are the cause of the increase of price for products and services
Constant monitoring of work processes
Immediate analysis of data to identify errors and problems in real time
Continuous improvement in productivity
From a company to an innovative smart factory with eNX Full
How did GP Progetti help Giacomo Martinelli to achieve its goals?
The proposals of GP Progetti made it possible to transform the expectations, desires and needs of the owner, Alberto Martinelli, into reality.
The Brescia-based company has acquired a certificate of excellence that makes it a smart factory. GP Progetti, thanks to the know-how of the specialized team and cutting-edge tools, has installed a software package for the complete management of all production-related data with analysis using internal modules.
The innovative eNX full package allows to manage:
Business processes through workflow management
Production planning by anticipating future inefficiencies
Automatic data collection from interconnected machines
Events with automatic notifications
The analysis and processing of Big Data.
To become a smart factory, the intervention of a partner specialized in advanced industrial production management programs is necessary. The technology that puts man in communication with machines to optimize production and improve quality.
Do you want to improve the productivity of your business? Transform your company into a smart factory according to the 4.0 industry with GP Progetti. Contact us.