Company Mevar from Brescia has been operating in the field of sheet metal processing since 1972. It has chosen GP Progetti's software solutions for production monitoring. Thanks to the eNX Standard Suite with the cost calculation module and the Driver 4.0 integrated with the MES, Mevar has successfully taken the road to become a smart factory within an Industry 4.0 perspective.
Production planning and monitoring with eNX Standard
Mevar asked GP Progetti for a solution that would allow it to plan and monitor company production to optimize and improve the efficiency of its services. Specifically, the company deals with the construction of moulds, laser cutting, sheet metal processing and mechanical processing (milling, turning, electro-erosion). Different sectors that needed a tool able to coordinate the departments and the various production processes.
eNx Standard is a software package dedicated to production management. The data and tools provided make it possible to plan production and follow the company's efficiency. An indispensable tool for monitoring and obtaining useful data for optimizing internal processes and procedures.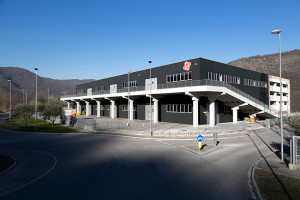 Mevar improves efficiency with production planning software
Which aspects of production Mevar has improved thanks to the intervention of GP Progetti?
work organization based on deliveries requested by customers
management of subcontract material and raw materials
the flow of internal documents, with the elimination of paper supports
the control of the operators' timing by detecting any stops or problems
In the coming weeks, GP Progetti will present in another news all the objectives achieved by Mevar in these months of collaboration with the software house.
If you want to transform your company into a smart factory with an Industry 4.0 perspective, contact GP Progetti's experts for its software for production planning and monitoring.
Wednesday, 31 October 2018
GP Progetti is continuously evolving in the field of tools for industrial management. The proposed software packages are designed to improve the productive efficiency of companies and are able to meet the needs of different sectors. GP Progetti's solutions are able to follow the analysis phases, customer and supplier order inventory coverage, supply and more. The centralized management of production flows is the basis of a process that offers quality products or services: this is why it should involve all professionals whose priority is the streamlining of production phases, the limitation of various wastes and the general improvement of all planning stages. Thanks to the workflow management systems it is useful for keeping track of workload, all documents and all data; a correct methodology for implementing the tools for industrial management can be summarized in five main steps:
Identify the process to be analyzed
Define input and output exchanged between the protagonists of the process
Define the activities and procedures that control the progress
Define expectations
Define the responsibilities of the process
The production scheduler: planning methods
Thanks to the production scheduler it is possible to manage all company resources whether they are workbenches, operators or external resources. GP Progetti has created ten scheduling software packages and three data collection modules: they are completely customizable data collection and production monitoring programs that become a real monitor for real time planning supervision.
Would you like to improve your business using tools for industrial management? Contact us for a fact-finding meeting.
Friday, 02 September 2016
The software programs designed by GP Progetti deliver guaranteed results to streamline production in various sectors.
"The development of solutions addressing a variety of client needs has resulted in a wealth of skills and expertise acquired on the field and available to be invested with the aim of optimising your company's production"
For a company supplying thermal treatments, significant advantages may be had by introducing the eNX suite. A client recently contacted GP Progetti to request software designed to manage thermal treatments that was able to oversee furnace charge planning and to survey produced charges, with detailed data on processed pieces. GP Progetti consultants suggested the installation of eSphere + eFlexiMES, two software programs capable of planning production hence optimising the work process.
GP Progetti provides flexible solutions for advanced production management
How do eSphere and eFlexiMES streamline production management?
Below are the advantages achieved by the client company after installing the software recommended by GP Progetti.
Real time production control ("I know what is happening in the department from the office desk");
Finite capacity planning of furnace charges;
Control of production in real time;
Production progress directly on the charge order;
Filing production progress sheets, i.e. field data such as: quantities, times, downtimes and waste;
Search and display of field data.
Both eSphere and eFlexiMES are fully customisable based on the needs and requests of the client dealing with thermal treatments, but may also be customised for other specific requirements.
Thanks to the technological implementation, Gp Progetti's client has eliminated the risk of losing precious data during processing, thus allowing the company to optimise management by controlling production in real time.