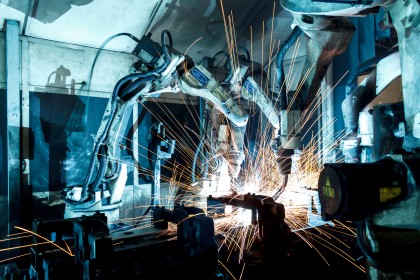 GP Progetti's solutions are used in various application sectors with the aim of optimising production management. With the eNX Suite, the weaponry sector, the automotive industries, foundries, but also mechanical companies and plastic manufacturers can enhance their production.
GP Progetti aims at improving companies' productivity, not just in terms of production, but also in offices and service centres thanks to the application of lean office techniques.
When speaking monitoring and improving productivity, we immediately think of manufacturing businesses where components and materials are physically processed in order to obtain a product, though the  productivity improvement offered by the eNX Suite has a far broader scope in terms of applicability.
Indeed, due to its nature the eNX suite, designed by GP Progetti to optimise production management can be customised in all activities featuring repetitive tasks that can be standardised, therefore not just departments of production lines, but also offices and service centres.
SPECIFIC CASES.  GP Progetti installed an IT solution to improve productivity in a technical office of one of its clients, a company where lean office techniques had already been applied.
The firm, which had called GP Progetti with the aim of enhancing production management, works in the machining field according to the client's designs. In this case, which can be taken as an example that can also be applied in other sectors, the technical office is regarded as the first production department, where the assembly drawings ordered by the client are turned into the executive designs for all the components of the bill of materials and for all work stages. The time the technical office takes to complete the drawings is therefore essential as it is a significant portion of the overall delivery lead time of the product. The eNX suite by GP Progetti can monitor and optimise these steps as well.
SECOND CASE. In a company operating in the weaponry sector, instead, GP Progetti enhanced production by solving another issue. In the case in question, the variety of products – namely parts to build weapons – was growing, with an increasing workload for the technical office and a large backlog of uncompleted projects.  In the meantime, the search for new clients launched by the sales director led to the introduction of new items to design (sampling) that, unfortunately, often took the technical department the same time to process as if it were a product made in series.
Thanks to the solutions provided and the experience acquired over the years, once again in this case GP Progetti provided a solution to enhance production management.  Indeed, before hiring new personnel, the company wanted to know the productivity levels of its technical office and put in place all the actions required to streamline the process and ensure it was leaner. This progress was possible thanks to the installation of the eNX Suite, which was customised based on the specific requests submitted by the client.