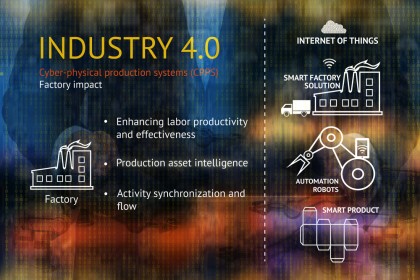 The national Industry 4.0 plan, launched by the Italian Ministry of Economic Development, has allocated 1.2 billion euros for the purchase of machinery and software to develop the potential of the Smart Factory and streamline industrial production.
The Smart Factory and information technology for the manufacturing industry have recently been considered a critical success factor for the growth of the Italian production system and to maintain and strengthen its competitiveness on global markets.
Despite having been a topical issue in the last few years, following the German government's launch of the "Industrie 4.0" programme, the use of these new technologies is not widespread yet, not only in Italy but also in other European countries, including Germany. Indeed, a recent survey conducted by the BDI, the Federation of German Industries, showed that 45% of businesses have not yet fully examined the implications of an intense digitisation of industrial processes and that two thirds of German companies still feel that, on average, they are not ready yet when it comes to digital technologies. However, both business associations and the government believe that this is the direction to take in order to establish the leadership of the German industrial system.
Things have been moving for some time now in Italy as well and the presentation of the National Plan Industry 4.0 is the conclusion of a stage of the process that began in 2012 with the establishment of the Italian Technology Cluster "Intelligent Factories" (CFI).
It is therefore the right time to consider the adoption of new manufacturing 4.0 technologies, also by using the tax benefits that the recently presented national plan has to offer.
In short, two key factors fit together almost by chance: the recent presentation of the eNX 10.0 Suite launched by GP Progetti to streamline production in companies and the subsidies to make companies worthy of the Industry 4.0 brand.
With the eNX system, GP Progetti provides its experience and innovative advanced industrial production management to companies that consider the monitoring of all processes as their primary goal to improve production efficiency.
The eNX Information System is characterised by complete integration, providing immediate and powerful decision-making support in terms of information quality, which streamlines production costs and times, as well as the monitoring and performance of the various production departments.
Feel free to contact the GP Progetti salespeople to schedule a short visit to briefly introduce the new management, operating, technological and commercial features of the 10.0 version of the eNX Suite.