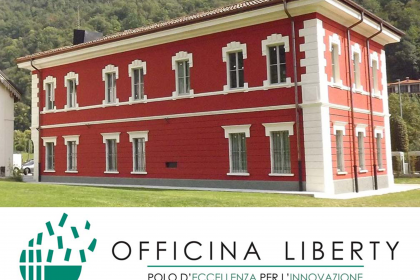 In October 2019 the Officina Liberty project starts in the Trompia Valley. What is it? The new center for urban, productive and cultural innovation of the territory, within the Mella Park, is the first technological incubator of the Trompia Valley. GP Progetti is proud to be part of this ambitious project, together with other excellences based in Brescia in the field of technological innovation.
The economic revitalization of the Valley will therefore have a new important center for the promotion and development of innovation and research related to Industry 4.0. The administration of Gardone V.T., at the end of the restructuring of the building used as the headquarters of Officina Liberty, identified the company CSMT, technological partner of GP Progetti, as the heir to continue with the management and development of the project.
Officina Liberty: GP Progetti is resident partner
An important role for the success of the project is played by the resident partners, selected to contribute to the growth of this initiative. GP Progetti is one of these excellences of the Brescia area, in charge for the management of the software area. An important occasion to promote technological development and innovation both in the Trompia Valley and the Brescia area, places where GP Progetti and many of its customers are located.
The Officina Liberty project for the socio-economic relaunch of the territory: the objectives
 The main objective of the Officina Liberty project is to create a Disruptive Innovation Center that develops themes such as:
Internet of Things IOT in the company
Cyber security
Artificial intelligence
Blockchain
Biotechnology
and other topics related to Industry 4.0 and innovation for the development of the urban and corporate fabric of the Trompia Valley.
Officina Liberty wants to become a technological center made of expert innovation companies that work to carry out research and development projects of cutting-edge solutions, in a co-working space.
The presentation of the Officina Liberty in Gardone V.T. will be held Thursday, October 17th at 16:30 in Via Angelo Grazioli 23 / D. The activities and partners involved in the project will be presented at the event. GP Progetti will be there, and you? We are waiting for you!